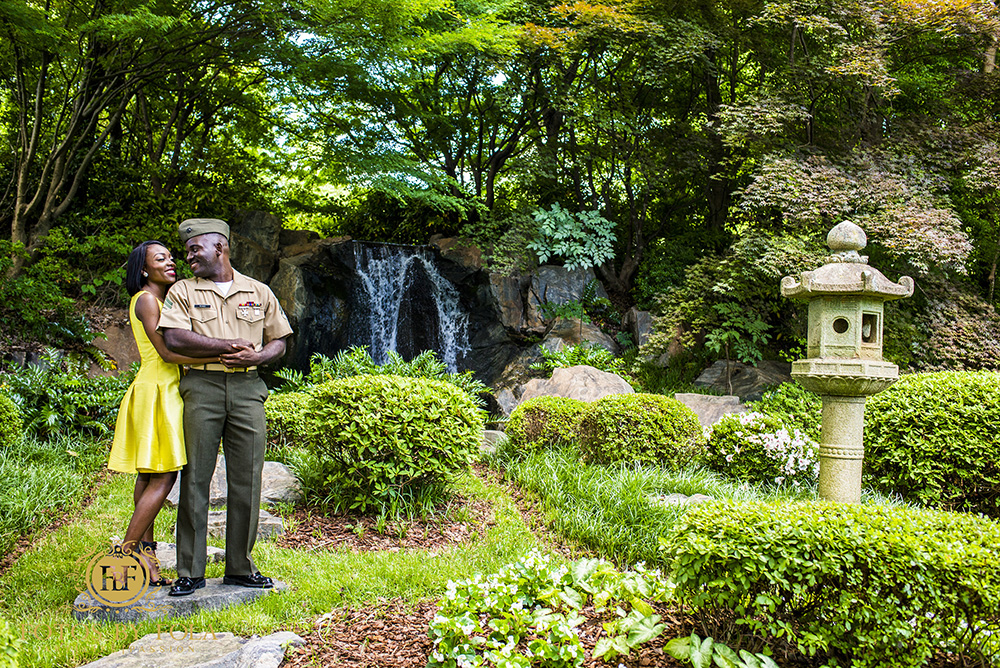 Hello! Thank you for coming by the blog. I hope the new month is off to a great start for you. Today, i am excited to share Danielle and Gboluma's Engagement session which was also featured on Munaluchi Bride! I truly love Danielle and Gboluma's love story! Gboluma was serving in Japan while they were dating and despite the massive distance between each other they made it work. I had so much fun with them both during the shoot.  The shoot took place at the Japanese Garden at The Carter Center. Since Gboluma Served in Japan it just made sense and i really loved how it came out.  I can't wait to share their beautiful wedding pictures as well . Stay tuned. Check out the couples story below. Enjoy!
How it all started!
On December 28, 2012 Gboluma was introduced to Danielle, by a neutral friend, Alex Williams at a gathering held at Danielle's Parent's home. Gboluma and Danielle saw each other as great eye candy but both did not allow their egos to admit to their desires.
The second time they met again at a party and action was taken! Gboluma couldn't let Danielle leave without getting her phone number. Danielle did not admit this but she couldn't wait to hear from him. Once again, both of their big egos got in the way and they briefly texted after their encounter.
The third encounter occurred on January 19, 2013 at a friend's birthday party. Gboluma remembers asking Danielle's friend about her coming to the party and looking forward to seeing her. Danielle remembers them staying at the party for an hour and spending the rest of the night talking in her car. They both admit that their conversation was one of the best conversations in a long time.
Because of such great interest, Danielle admits that she couldn't wait for their next encounter. She drove forty-five minutes and invited Gboluma to assist her in picking out a pair of workout sneakers. It was at the store that Gboluma realized that he was interested in more than a friendship when he saw the salesperson flirt with Danielle. A month later, Gboluma sent Danielle a Valentine gift to her home and invited her to a Valentine's day party. The very next day he asked her to be his girlfriend. The Rest is History!!!!!!!!
After spending a year away from Danielle in Okinawa, Japan, Gboluma returned home with the intention of proposing to Danielle on a carriage ride but due to Danielle being fashionably late, that plan failed. Gboluma stated he quickly when into panic mode, not knowing what other ideas he could come up with in such a short time. The next day, Danielle expressed her love for heights and suggested that they take the helicopter tour of Blue Ridge Mountains. Gboluma quickly agreed and planed his proposal. With a big smile, Danielle said she honestly thought Gboluma was afraid when he was pulling the ring out his pocket. She said YES! The Rest is History!!!!!!!!
.
atlanta photographer, Atlanta Wedding Photographers, Best Wedding Photographer, Carter Center, Japanese Garden, Liberian wedding, Liberian Wedding Photographer